We are on vacation in Florida! And it wasn't a moment to soon, back home has gotten hit with 15-18 inches of snow! My mom and I flew with the kids and Derek drove down with my brother Bobby. Derek hates to fly. The kids did wonderful. Especially Cole who is a little rocket these days. Julia enjoyed being held, and snuggling with me while in the moby wrap. The weather here is so nice, warm and breezy. We went for a nice long walk this morning.

Here is Julia enjoying the wind in her hair! ha!

She was not a fan of the stroller, so Derek and I took turns holding her.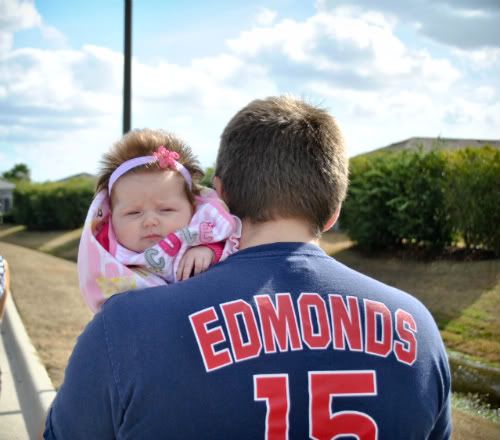 Like I said, he is a little rocket! Derek had him running in between us and Nonna (who was pushing an empty stroller) :)
Cole likes to race, and says, "lets race!" all of the time. It really means "come on chase me, I love it." The walk wore both of the kids out, and they are taking nice long naps! yay!
Enjoy your day!