My kids are growing up so fast. Cole gets more animated everyday. We are guaranteed a least a few good laughs a day with him. I love the age Julia is at. She smiles and interacts, but is easy enough to carry around. She just goes with the flow.
Yesterday, Cole helped himself to a powdered donut and a glass of milk. He ended up wearing more of the powder than eating it I think :) We never have donuts in the house, and he thoroughly enjoyed it.
Sibling love and stick straight hair.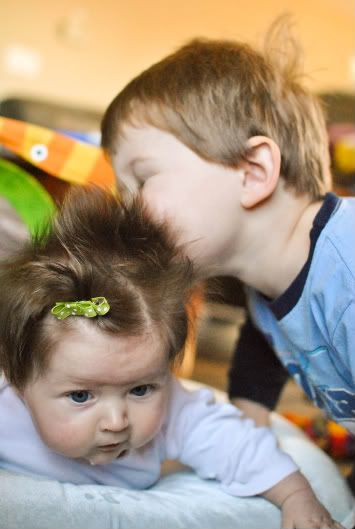 This picture reminds me of the personality similarities between Cole as a baby and Julia. They can both be so serious, and both so expressive with their eye brows. Julia raises hers, and Cole would furrow his in.
Aunt Lolo came to see us after school yesterday. While I ran to get us lunch from Subway, she snapped this picture of Cole. He is very helpful when he wants to be.
Aunt Lolo trying to get Julia to smile.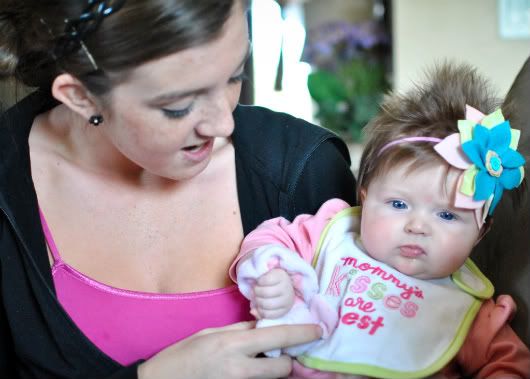 After this picture was taken, I had Julia on my lap looking at Lauren (Aunt Lolo). She was trying to get her to smile so I told her to sing "Mary Had A Little Lamb."
WOW! I thought I was tone deaf, and I am sure if I heard myself sing I would cringe
,
but we got a good laugh from Lauren's singing. WE LOVE YOU AUNT LOLO!! Julia did smile from the singing. Maybe she smiles because we sound SO bad. I love all of you out there who have been in the wrong place at the wrong time, and listened to me singing to the radio!